Hospital germs are responsible for 33,000 deaths in Europe―every year! Increasing resistance to antibiotics makes the problem worse and shows that previous measures to manage the dangers to health within hospitals and nursing homes haven't had the desired effect. 
Despite improved hygiene standards, no significant reduction in the number of infections and deaths from MRSA (methicillin-resistant Staphylococcus aureus) in hospitals has been recorded so far. At the same time, the aging population increases the need for nursing homes. Hygiene measures are particularly important in this context, as the immune systems of the elderly and older patients is already weakened, requiring greater protection. 
Furthermore, there is talk of a lack of qualified personnel, not just in Germany, Austria and Switzerland. These personnel shortages and chronically tight budgets are significant challenges for the management of seniors' homes and nursing facilities, not only with regard to hygiene management. 
To provide more protection and improved hygiene means breaking the infection chain. But how does the number of germs develop between the cycles of cleaning and disinfection? Hand hygiene plays an important role, as many germs are transmitted via surfaces coming in contact with skin. Missing, or inadequate, systematic hygiene processes permit the nearly uncontrolled growth of sometimes multi-resistant germs on plastics, textiles and skin. Disinfection can prevent this to a degree, but is nowhere near enough by itself. Given this, the choice of antimicrobial surfaces may offer a useful addition to the overall hygiene management concept: in hospitals, doctors' offices, care facilities and nursing homes.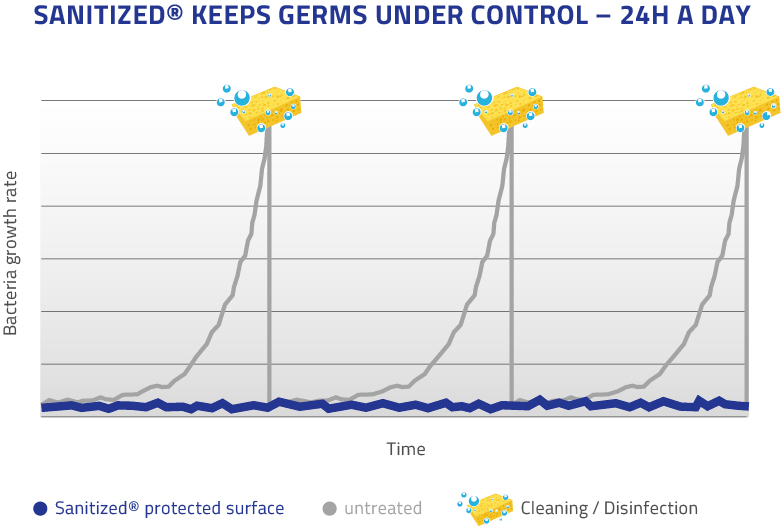 ---
Antimicrobial surfaces provide permanent protection from bacterial growth between cleaning and disinfection cycles.